The 2020 State of Sci-Fi
Plus a definitive answer to why '50s comics were obsessed with gorillas
Hey, everybody! This is the newsletter that used to be called Maddd Science, if you're on the free list and missed my last email. Other news items include the fact that I'm now writing an art book about retro sci-fi, and I started a paid Substack for anyone who wants to follow along with the research process for it.
But that's just the state of me, this month. Here, I'm sharing a few interesting articles about the sci-fi genre in general. First up is a great summary of the decade in sci-fi:

Reading List, December 30th, 2019
Andrew Liptak, Reading List
How did science fiction and fantasy storytelling change in the last ten years? Why? After consulting with a number of authors, editors, and agents, it's clear that the entertainment industry and SF/F have experienced major changes in the last ten years, from the introduction of streaming services, to Disney's franchise domination, gender and politics within SF/F, self-publishing, and a growing acceptance of SF/F content within mainstream culture. This list is broken down into those categories, with a representative example or two from each section.
And here's a similar piece, looking towards the future of genre magazines.

#SFF2020: The State of Genre Magazines
Jason Sanford, personal website
It is also worth noting the readership for most genre magazines increased in 2018 over the year before. Analog's total circulation was up 9.9% while Asimov's was up 10.6% and F&SF's up 1.5%. Newer genre magazines also saw their circulations increase in 2018 over the year before, with Clarkesworld seeing a nearly 8% increase in paid digital subscriptions while their website had 2,000 more unique visitors each month and podcast listeners went from 2,000 to 14,000 in a single year.
I actually enjoyed that one so much that I covered it for Forbes, if you want to read my shorter summation of what the full report turned up.
My Forbes articles tend to get between 300-1,000 views in the first few days and then taper off after that, but this one started off particularly low for a few days, barely earning 100 views, and then took off four days in. Now it's well past 9,000 views. I'm guessing the SF/F community took a while to find it, but are particularly invested in the results. I kind of had the general sense that genre magazines really leaned on volunteers to survive before I read the report, but that doesn't seem to have been widely known, given the responses I've seen.

While we're on the topic of "writing I did this week that wasn't my book," I have once again updated my paean to the Fast and Furious franchise's title naming scheme. Folks, they're now on a ten-film streak of never using the same type of name twice, with the new film titled F9. I could say more, but you should just read the article.

Here's an article unpacking the hilarious impact of cover art on comic book sales. DC exec Irwin Donenfeld started tracking which covers sold the best, and used that data mining to just absolutely inundate comic books with gorillas and dinosaurs. Who among us, I say. You should click through for the gorilla covers alone.

What Was the Effect of Comic Book Covers On Sales Before the Direct Market?
Brian Cronin, CBR dot com
"I made a book that had photos of the covers of every magazine that we published and when I got the sales reports, I put the numbers underneath the cover. So I followed every single magazine that we produced and I was able to see how certain themes would sell. For example, I discovered that gorillas sell.
We had gorilla covers on Star-Spangled War Stories or Wonder Woman. You name a magazine, we had a gorilla on it. You know what happened? Sales exceeded our expectations.
I found dinosaurs before any one else in the world did! We had dinosaurs on covers you can't believe! Even in Tomahawk! Sales shot up."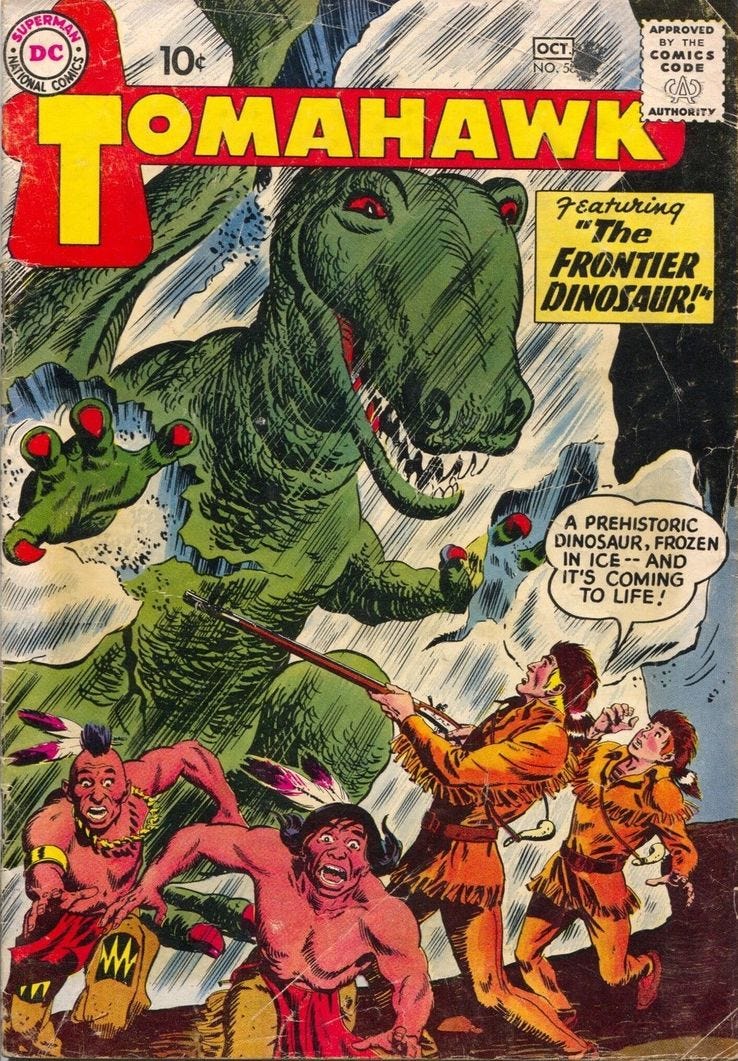 Pictured: Sales shooting up

I like the angle on this article, which used Lord of the Rings to look at the publishing industry, and doesn't hesitate to answer a bunch of additional questions as they come up, like "why was an archaic 'quasi-medieval' epic fantasy such a hit?"
How Tolkien and The Lord of the Rings Changed Publishing Forever
Alan Brown, Tor.com
Paperbacks had the advantage of being less expensive to print, which made it possible to print books, like science fiction, that might have narrower appeal and were aimed at a particular audience. But it also made it easier for a book, if it became popular, to be affordable and widely circulated. This set the stage for the massive popularity of The Lord of the Rings.
Great article here from author Jeannette Ng on the impact of hyper-critical internet opinions.
Confessions of a Hate Reader, or Bad Writing Habits I Picked up from Bad Criticism
Jeannette Ng, Medium
It isn't that I don't love meticulous, believable worldbuilding. It's not that realism or plausibility isn't important to me, but there's more to creating a world than that. There needs to be purpose and theme. What do I want to say with this story? What themes do I want to explore? Why is this cool? And as such, how do those things shape the world?

The first question I ask when creating secondary world shouldn't just be "what do they eat?"
I'm at the stage in my email newsletter career where I forget whether or not I've linked to something in the past… Did I mention the story of how the original unpublished novel behind The Thing was recently unearthed in offsite storage in Harvard Library archives? Even if I did, this new article covers the whole thing best, so check it out.
Rumored 'The Thing' Remake Based On 'Frozen Hell': A Lost Manuscript May Change Horror History
Andrew Whalen, Newsweek
While Campbell's manuscripts had indeed wound up at Harvard's Houghton Library, they had been relegated to offsite storage and gone mostly unnoticed since, until Nevala-Lee sent a research assistant to investigate and photocopy portions of the archival collection. The carton Campbell left to Harvard included about 50 manila folders with penciled titles, each corresponding to a Campbell article or story—frequently written under pen names, such as the Don A. Stuart alias used for Who Goes There?

But it was a folder labeled "Frozen Hell" that first grabbed Nevala-Lee's attention.
Unrelated to anything else, I enjoyed this look at the title credits for 2012's The Cabin in the Woods.
Also, I'm really enjoying the Star Trek Picard show. It's further evidence for my theory that Star Trek shows gets better the less they treat Picard like he's the utter embodiment of moral justice and the more they undermine him. Like, we're all on his side anyway, we don't need the entire TV show around him to think he does nothing wrong. Here's a review that touches on this a bit (spoilers for the first two eps).

Last Time: $5/month subscribers got a closer look at this one cool painting from the Hildebrandt brothers.
Next Time: $5/month subscribers hear about an interview with Michael Whelan's assistant.