Short Film of the Week: 'Contact,' 1978
Yeah, for this email I'm pretending I post a short film every week, just roll with it
"Contact" is a ten-minute Soviet animated film directed in 1978 by the talented Russian animator Vladimir Tarasov. The groovy influence of '60s American animation is obvious from the start. Plus, the soundtrack offers a very Russian cover of "Speak Softly Love," which is much more well-known to American audiences as the Godfather theme.
The beginning of the film is a great snapshot of Soviet cartoon nature, but it's the psychedelic plot twist around three minutes in that should keep you in your seat for the entire short.
I'm very entertained that the soundtrack itself returns to play an integral part in the plot. Checkov would have been proud.
***
Also, check out this rainbow typography for a 1980 edition with a Ken Barr cover: It's the sort of absurd design choice that selection bias makes people think happened all the time in the 70s/80s. Groovy stuff.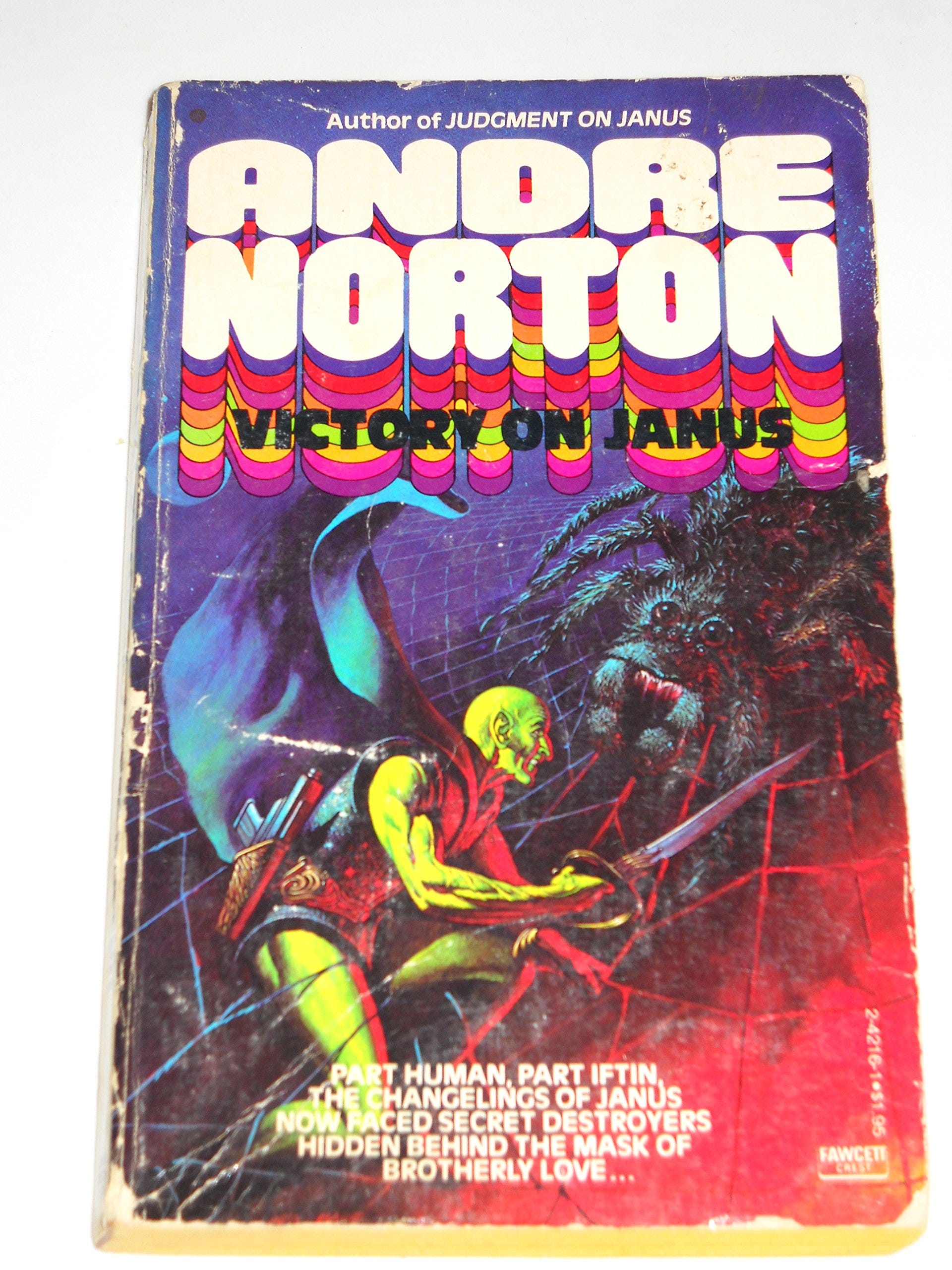 ***
Here's a review of a fun genre fiction history book that I'm still working my way through, but am really enjoying:
Review: Horror Fiction in the 20th Century by Jess Nevins
Alvaro Zinos-Amaro, Locus Magazine
Nevins's book is at its critical best when it complements its taxonomic efforts with attempts to identify thematic and sub-textual trends. Citing Simon Hay, for ex­ample, Nevins remarks that "much of British horror during the nineteenth century was about property, with the backdrop of empire and imperialism." Later, he writes that "the most distinctive aspect of British horror literature during World War I is that relatively little of it had to do with the war itself." […]

As with previous outings (The Encyclopedia of Fantastic Victoriana [2005], The Evolution of the Costumed Avenger [2017]), Nevins proves himself a tireless researcher of primary sources, a peerless list-maker and chronologist. With this ambitious, compendious volume, he also becomes a cartographer and successfully remaps horror's past.
***
Here are two abstract Jack Kirby illustrations with a very cool vibe: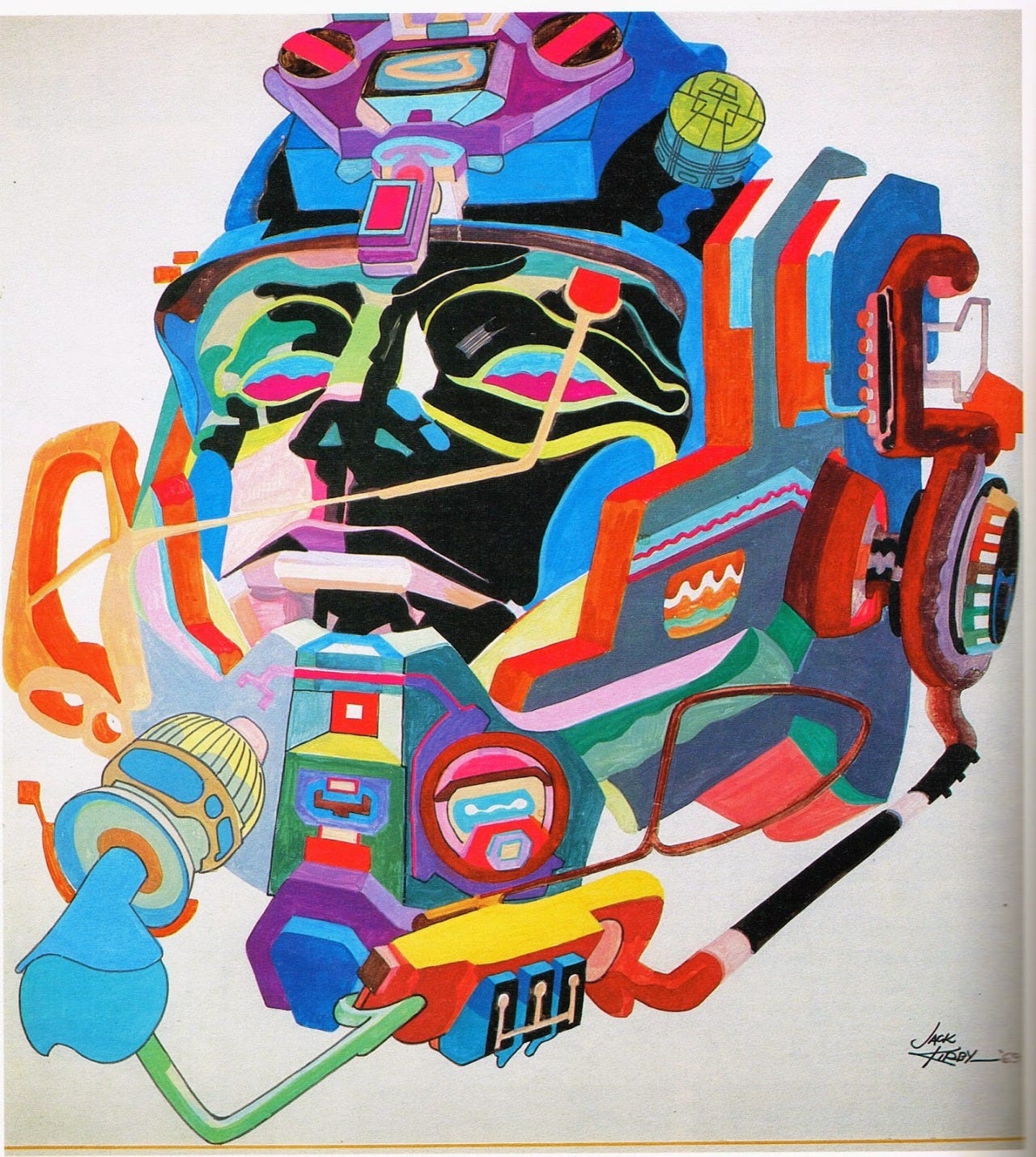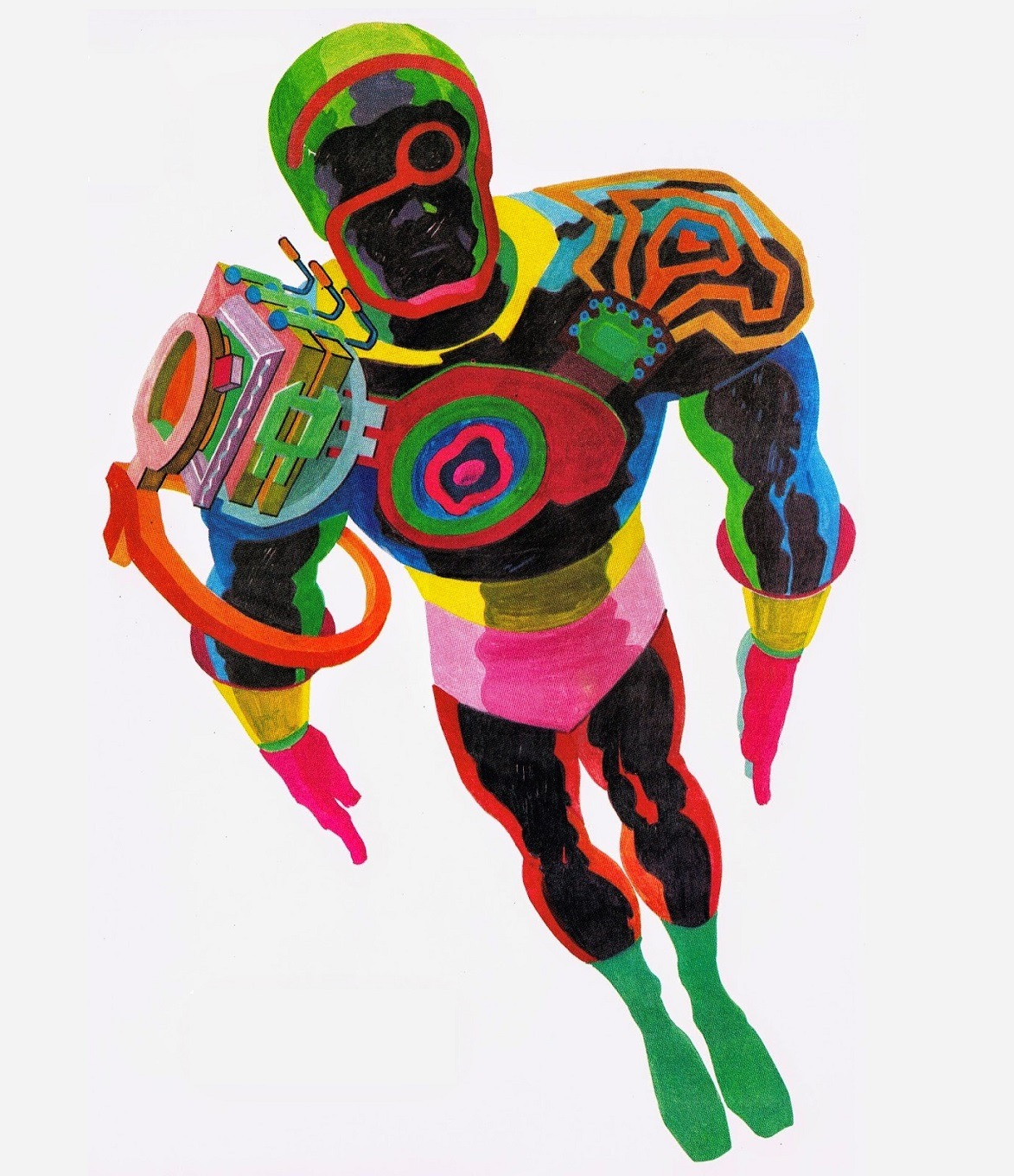 ***
My latest retro genre movie recommendation is 1969's Temptress of a Thousand Faces. Here's how Variety reviews it: "Fast-paced obscurity mixes James Bondian intrigue, martial arts, a dash of '60s Pop Art style and as much tongue-in-cheek camp as one can achieve without actual drag queens."
It's 76 minutes and currently available free on YouTube. I checked it out last night, and they're not kidding about the fast pace. Also, the villian is hilariously dedicated to spy gadgets, to the point of killing a random guy with what looks like a mirror that shoots explosive lasers and never makes another appearance, despite the fact that she could have just used a gun. I'm still not sure if it's a good movie, but it's definitely interesting.
And speaking of Hong Kong, here's a good note to end on: A visual history of powered saws being used as weapons in 70s-90s Hong Kong action movies.