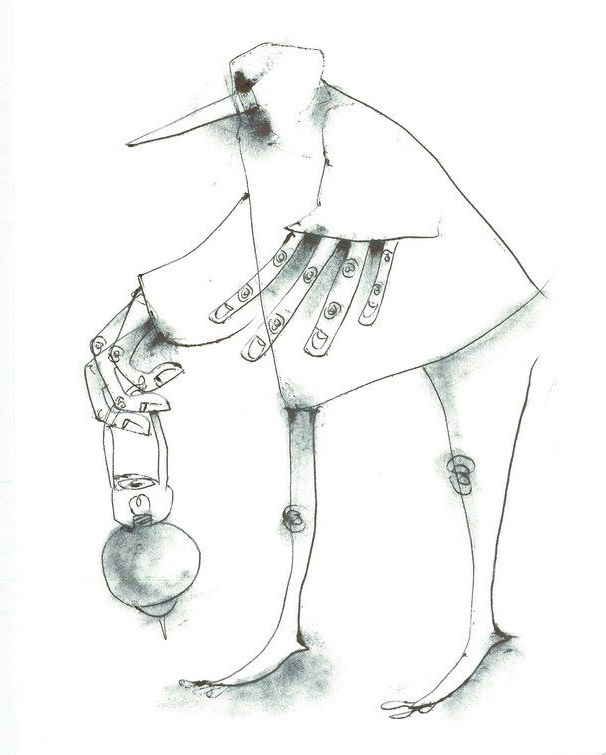 Maddd Science
So I'm planning to center each of these newsletters on a theme, but then not to let the theme take over the newsletter. In other words, just the first few links here would be about scary stories, giving me space to cover the rest of the week's genre fiction articles as well. Buuut then this week I liked so many articles on being scary that the three left over at the end just look out of place. Go figure.
Why Are There No Great Female Werewolves?
Julia Oldham, Artsy
In the 17th-century werewolf trials of Estonia, women were about 150 percent more likely to be accused of lycanthropy; however, they were about 100 percent less likely to be remembered for it.
There's also a pronounced lack of female werewolves in popular culture. Their near absence in literature and film is explained away by various fancies: they're sterile, an aberration, or—most galling of all—they don't even exist.
Joe Hill on writing horror in an era of Twitter and toxic politics
Andrew Liptak, The Verge
I think that people really only understand problems through stories. It's been pointed out a few times that if you tell people 100,000 refugees have drowned trying to escape a war zone, it doesn't register emotionally. It's just a number on a page. If you show them a drowned toddler who washed up on a beach, that hits like a punch to the solar plexus.
Weirdly, this is the second film-by-film breakdown of the Chucky franchise I've read this week.

The Strangely Linear and Reasonable 30-Year History of Chucky
Jordan Crucchiola, Vulture
The seventh installment of the franchise, Cult of Chucky, in theaters now, is the second chapter in a row to receive strong critical praise, suggesting that Don Mancini's deranged creation has accomplished a rare feat: a horror franchise that's actually aged well.
How to Really Scare People With Fiction
Marc Sollinger, Publishers Weekly
When my coproducer Daniel Powell and I dreamed up Archive 81, a fiction podcast in which a lone archivist struggles to make sense of a trove of disturbing audio tapes, we wanted to really scare people. We were looking for deep horror. We wanted to convey the disquieting loneliness of cities, touch on the terrifying urban isolation, and explore the frightening possibilities of audio. We learned how to do all this by reading weird fiction.
The 30 Best Female-Led Horror Films of All Time
Angelica Jade Bastién, Vulture
Much has been written about the genre in recent years, particularly about how it is a powerful avenue for young actresses to cut their teeth and for filmmakers to delve into stories that center on women's psyches.
Finally, Halloween is way too close for you to make a dent on this massive list, which appears to have been updated quite a bit since it first appeared in 2015. But it addresses a common problem: What horror movie is good, but not so good everyone's heard of it?
The Unseen — A Guide to Recent Lesser-Known Horror Films
Stu Horvath, Unwinnable
This guide looks at current gems in order to glimpse the future of horror. Some are first-time directors showing their potential. Some are bigger budget movies that inexplicably dropped off the radar. Some are cousins of the genre, in the vein of True Detective, that play with the conventions of horror without being horror themselves. Many of them are rough, suffering from one flaw or another, usually in the form of the small budget. Don't let that stop you, though – all of them are worthy of your time.
A tale of 'trons': the suffix that tells the story of modern science
David Munns, Aeon
To gain the suffix was to acquire a proud and optimistic emblem of the electronic and atomic age. It was a totem of high modernism, the intellectual and cultural mode that decreed no process or phenomenon was too complex to be grasped, managed and optimised.
22 Classic Novels That Won't Bore You To Death
Chelsey Pippin, Buzzfeed
We asked members of the BuzzFeed Community to tell us which classic novels were actually worth reading. Here's what they said.
The origins of the thagomizer
Various, Tumblr
The term "thagomizer" was coined by Gary Larson in humor
Video: Lights Out
David Samberg, YouTube
Probably the creepiest short horror film I've seen online.

And, if you want something truly horrifying, check out this mashup of Monster Mash with Echo & the Bunnymen. But please don't.

Next week: Stranger Things or Superheroes, depending on which recent release's hot takes are the least annoying.

Header image: "calling Doctor Plague" by Daniel Williams