New-to-me art by Angus McKie
It's the rarest discovery of them all — something not already on the internet
Here's something new: Four works by Angus McKie, all sent to me by a fan of my page on Facebook, Dave Perry.
"They were gifted to my family originally as a thank you to my father for teaching Angus how to play guitar back in the 70's," Perry told me.
Two of them have been published and can be found online, but I believe the other two have never been posted to the internet anywhere. (I could be wrong on that, but I can confirm that nothing came up for them in a Google Image search or a TinEye search). Sadly, none of them are dated.
Here's the first of the images making (I think) its debut on the internet, McKie's entry in the tiny "swimming pool in space" sci-fi art subgenre.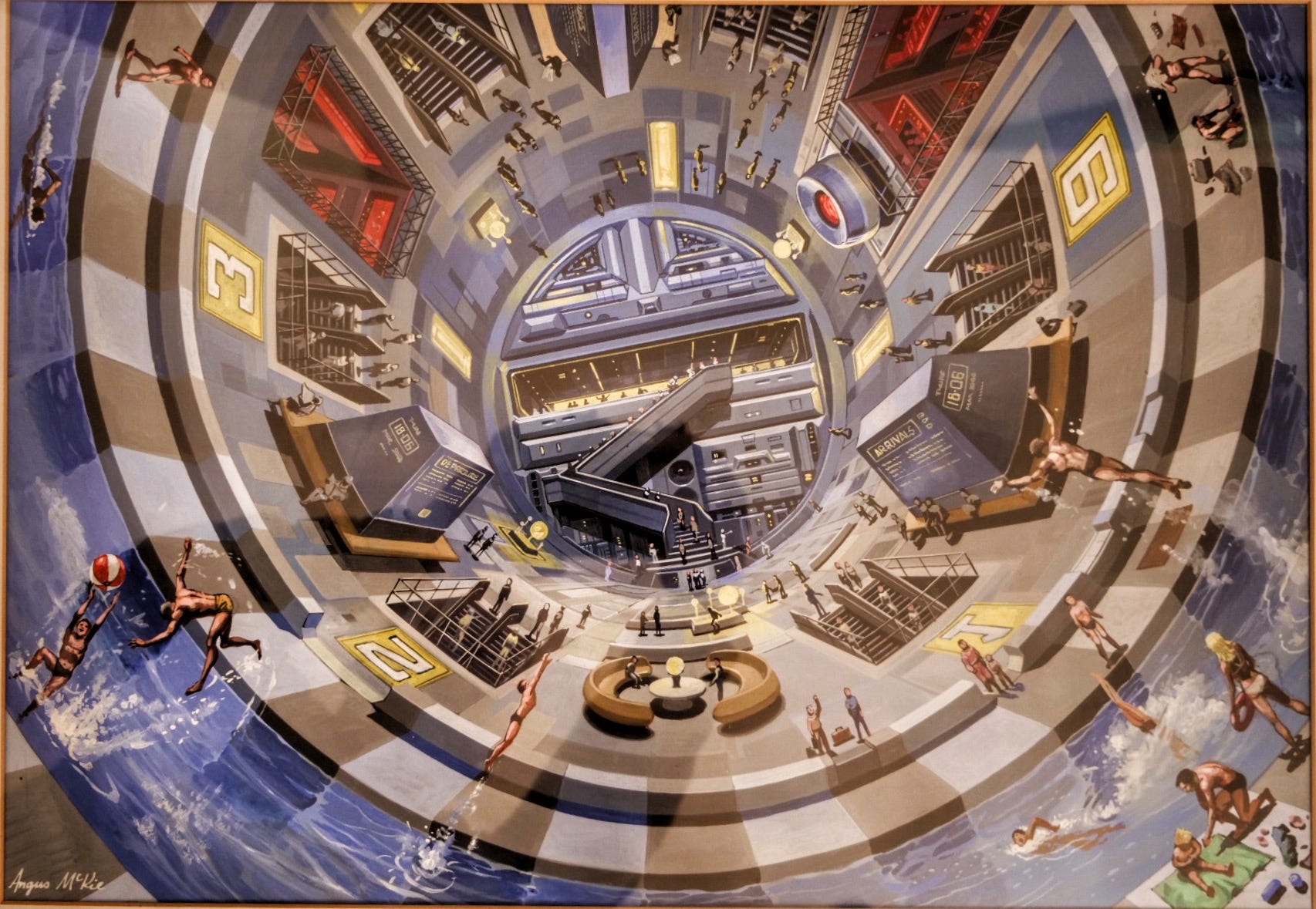 Not to digress too far, but I recently posted the other two impressive space pools I'm aware of, by Robert McCall and David A Hardy:
Here's the second of the four McKie images. This one has the clearest publication history: It was used as the 1989 album cover to Visioni di Venezia, by the Italian rock orchestra Rondò Veneziano.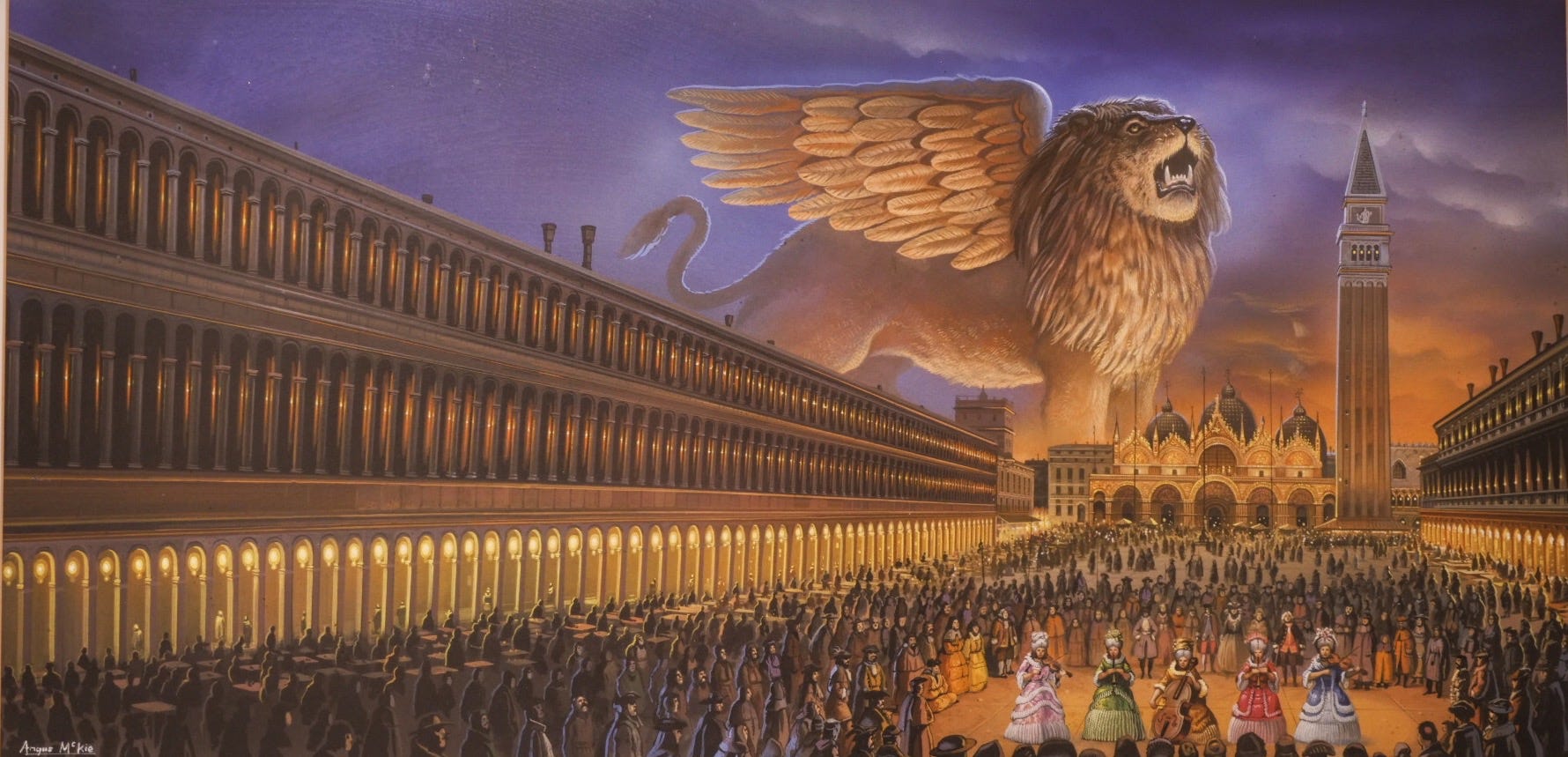 Here's the third, which I've seen floating around the internet more than once. It appears to be what the interior of a torus-shaped space station would look like if it were the suburbs. At least it's hard to take a wrong turn.
I haven't found where it was originally published, but feel free to drop me a comment or email if you know.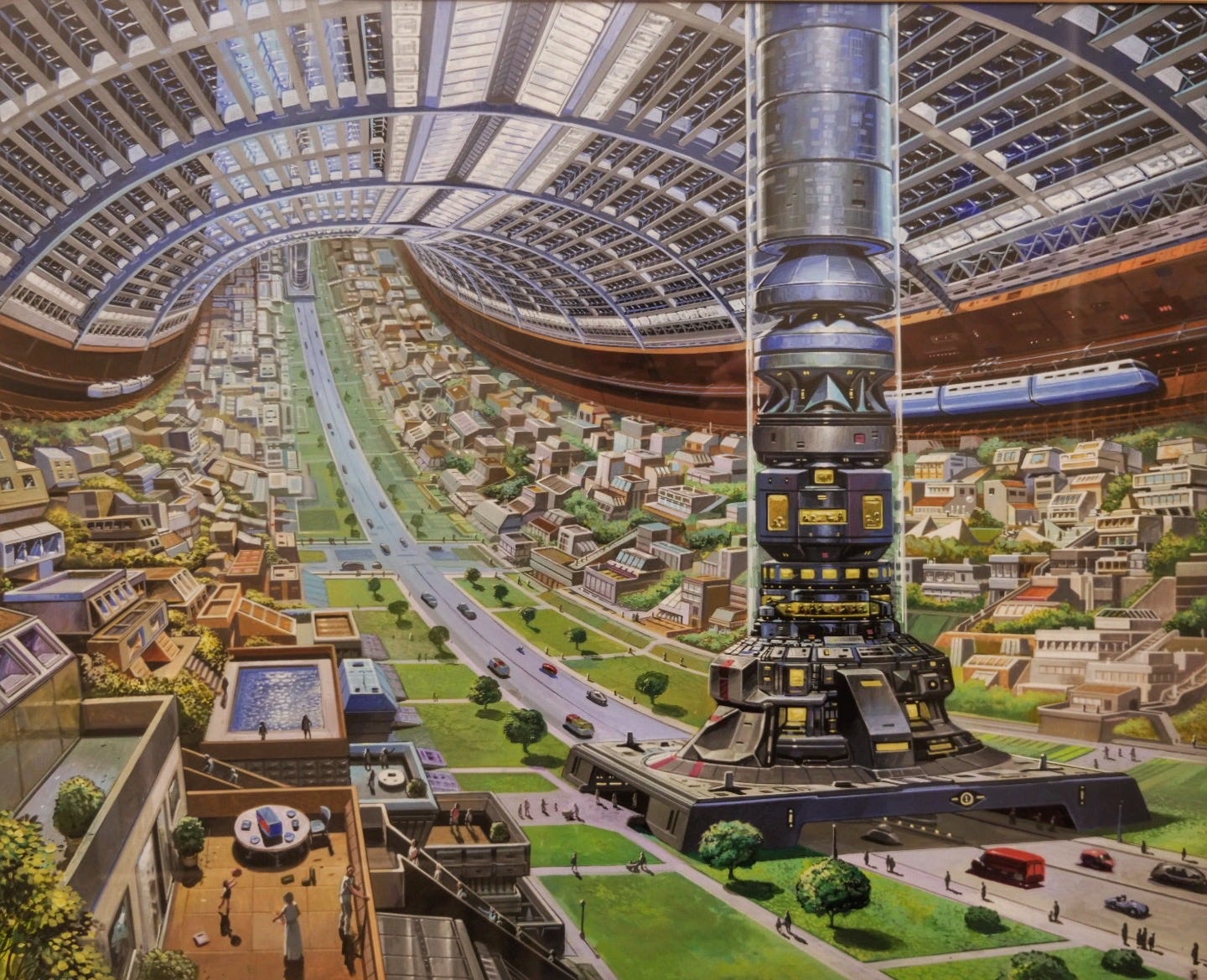 Finally, here's the other image that I wasn't able to find online anywhere: A pink spaceship hovering over a graveyard.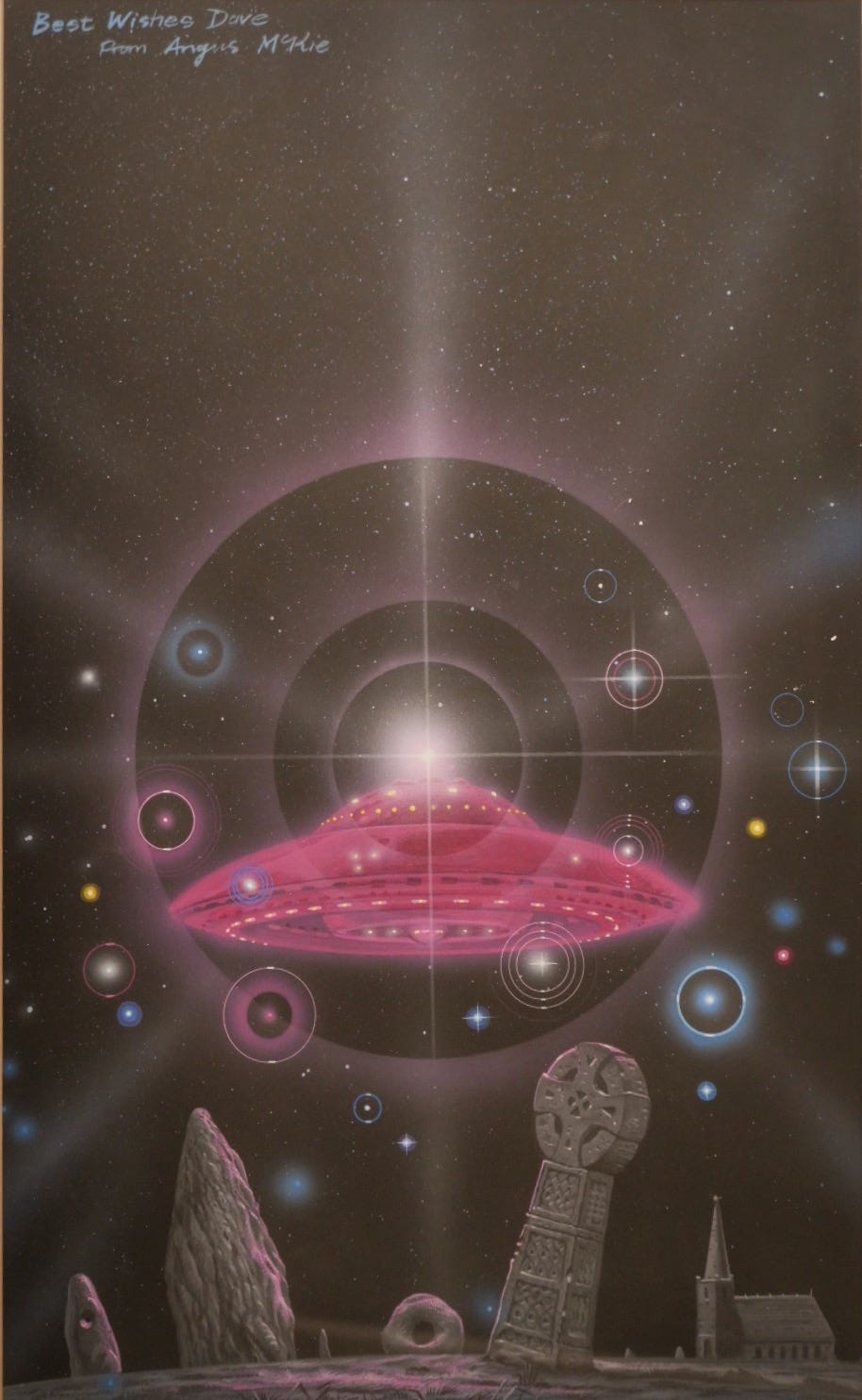 At first, I thought that McKie had continued adding details to a very similar artwork, his 1979 cover to the nonfiction book Young Person's Guide to UFOs, by Brian Ball (later reused in the 1980 Galactic Encounters book Worlds at War).
On closer inspection, though, it's pretty clear they are two different images, even if McKie was loosely copying his own work, right down to the general shape of the church on the right.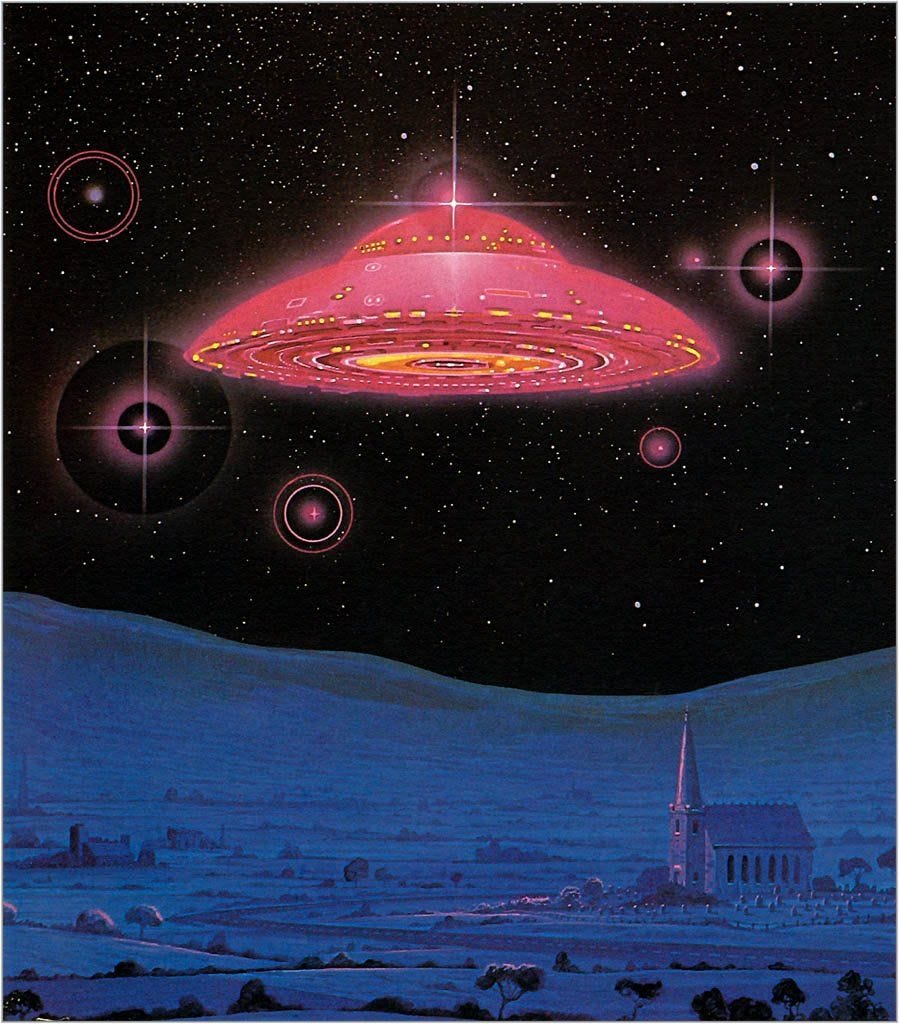 I have to admit I like the empty pastoral landscape a lot more than the busy-looking gravestones, but it's very cool to see a collection of rare artwork by McKie, who's one of my favorite sci-fi artists and under-acknowleged in general.
Thanks again to Dave Perry for sharing the images, and thanks to his dad for teaching McKie how to play guitar.