Extended Edition: Roger Dean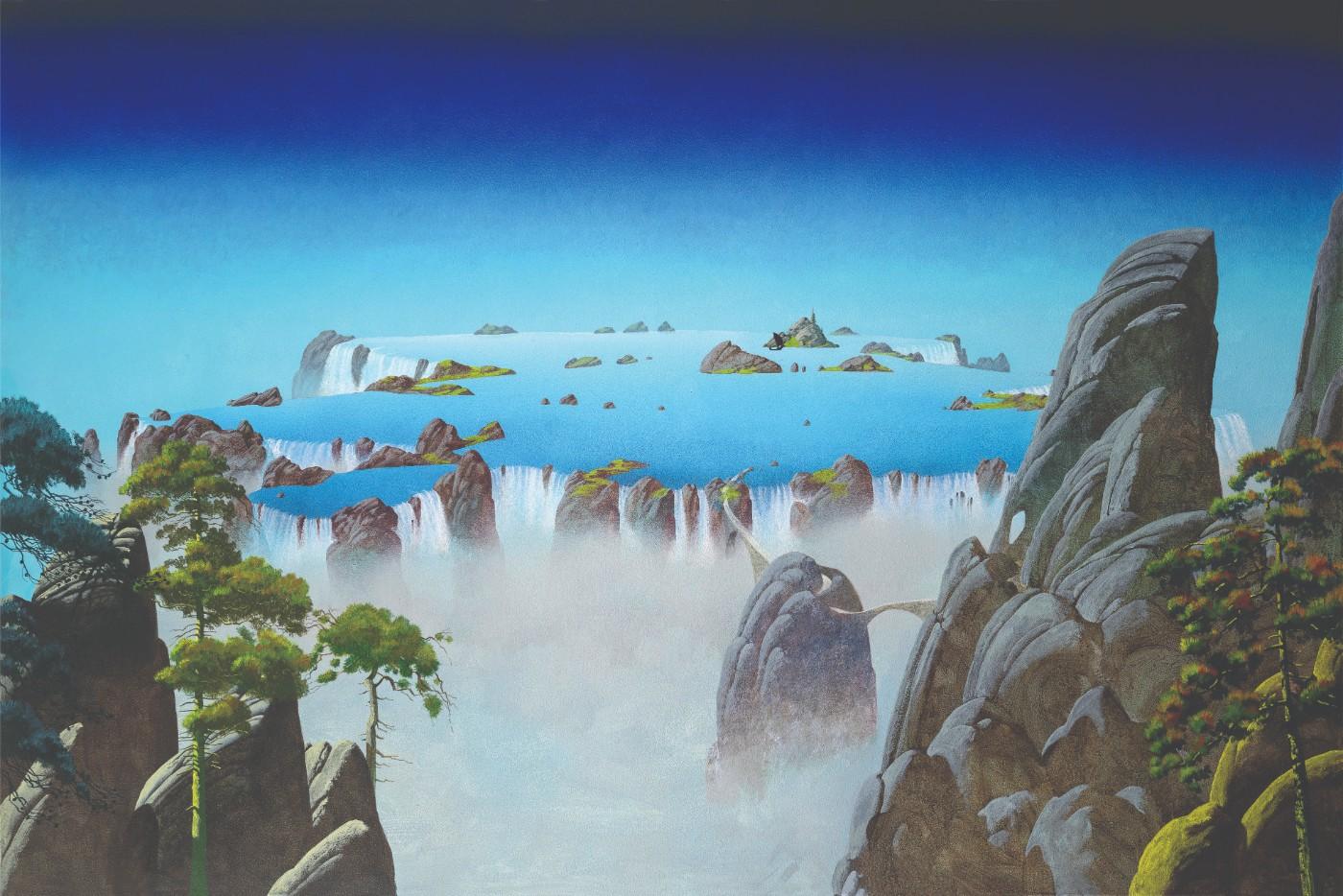 Placid, geologically imaginative record covers are what UK artist Roger Dean is best known for, particularly his work for the prog rock band Yes, who he has continually created posters, brochures, and stage installations for since late 1971.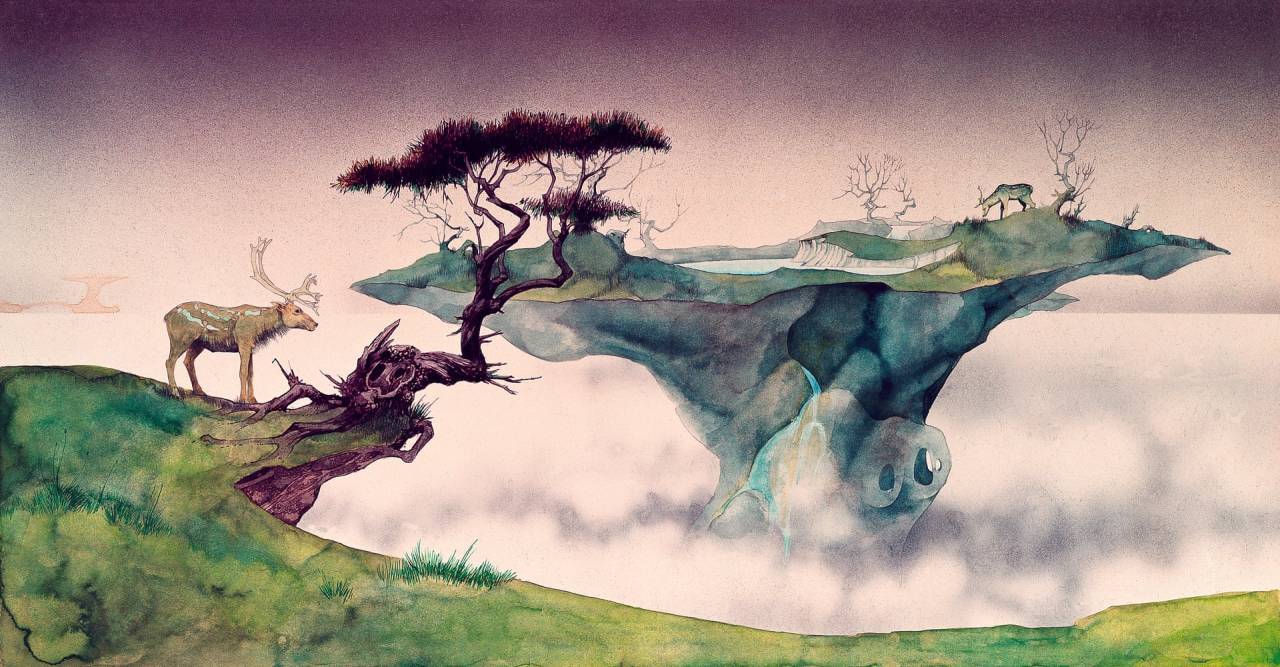 Dean's art spans an impressive range of mediums and techniques, with the real-world application of architectural design one of his top interests.
(My write-up doesn't get into this, but one big architectural interest of Dean's is a "house for the new millennium," which would balance beauty, psychological comfort, and environmental impact. Check out these images and captions from his website to give you an idea of how he thinks about this.)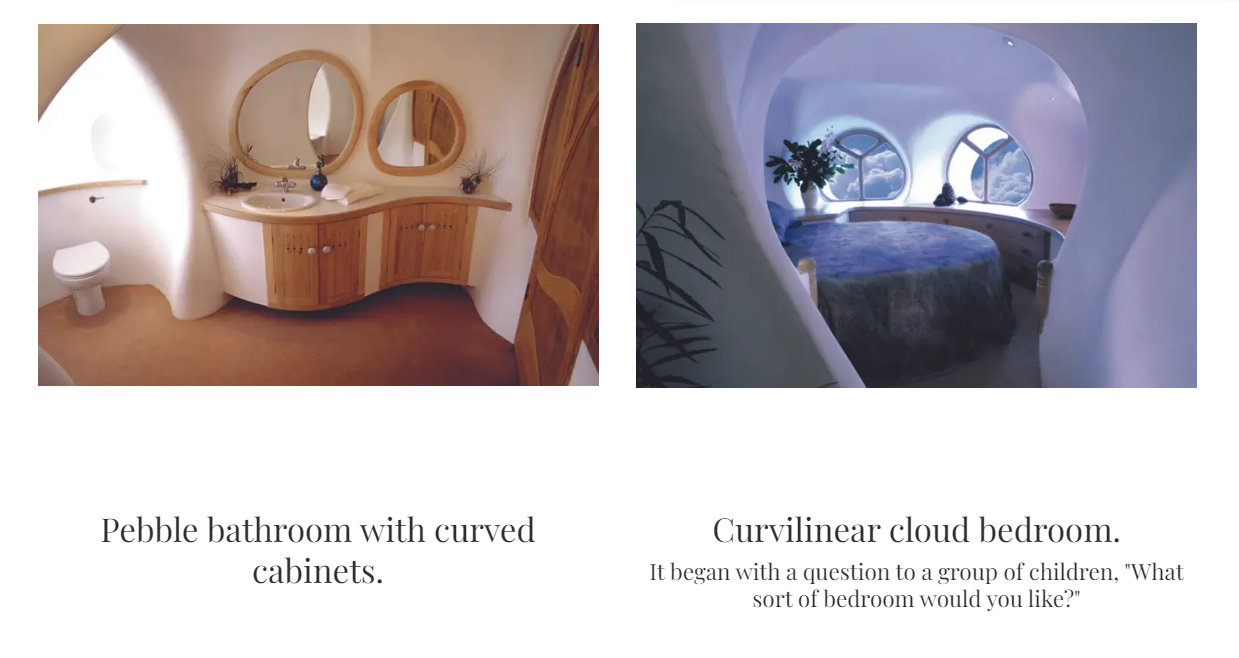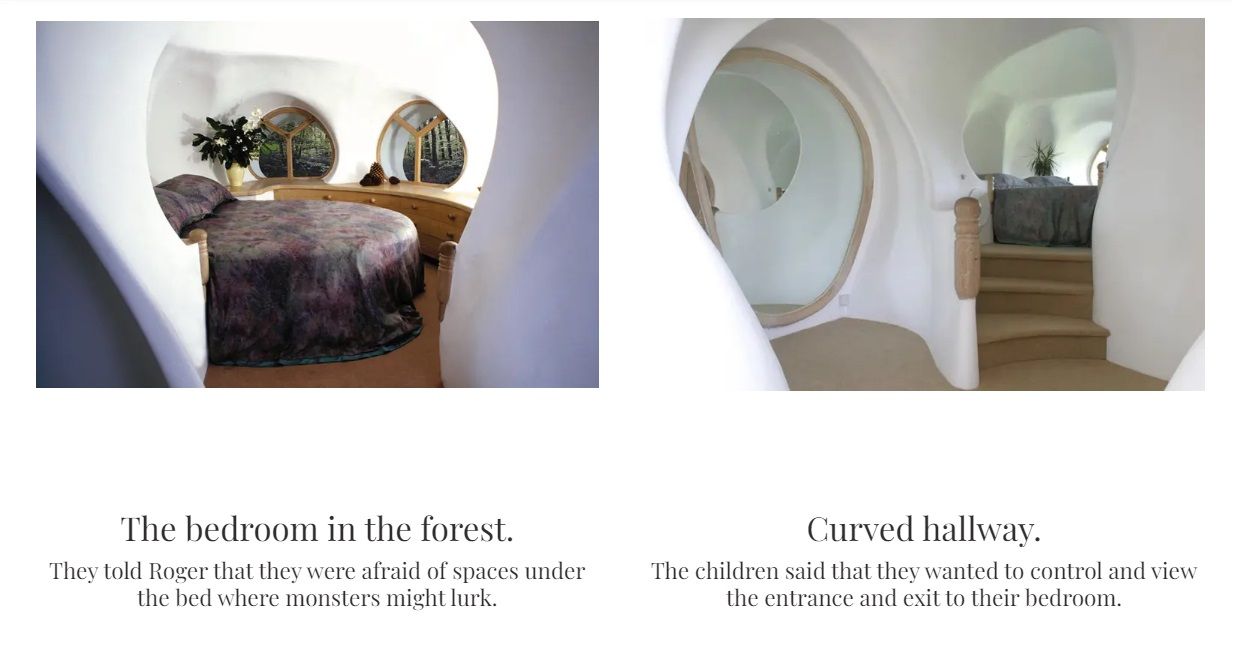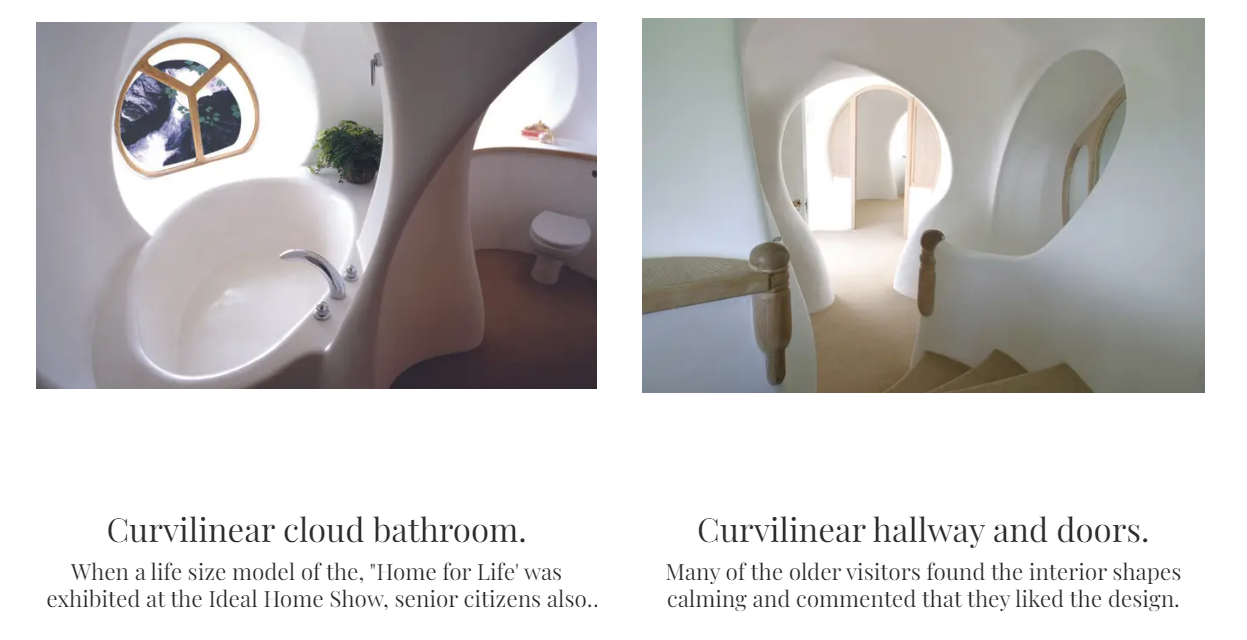 Dean was born in 1944 and spent time in Greece, Cyprus, and Hong Kong due to his father's position as a British army engineer. After studying silversmithing and then furniture design at Canterbury School of Art and London's Royal College of Art, Dean produced his first record in 1968 for the rock group Gun –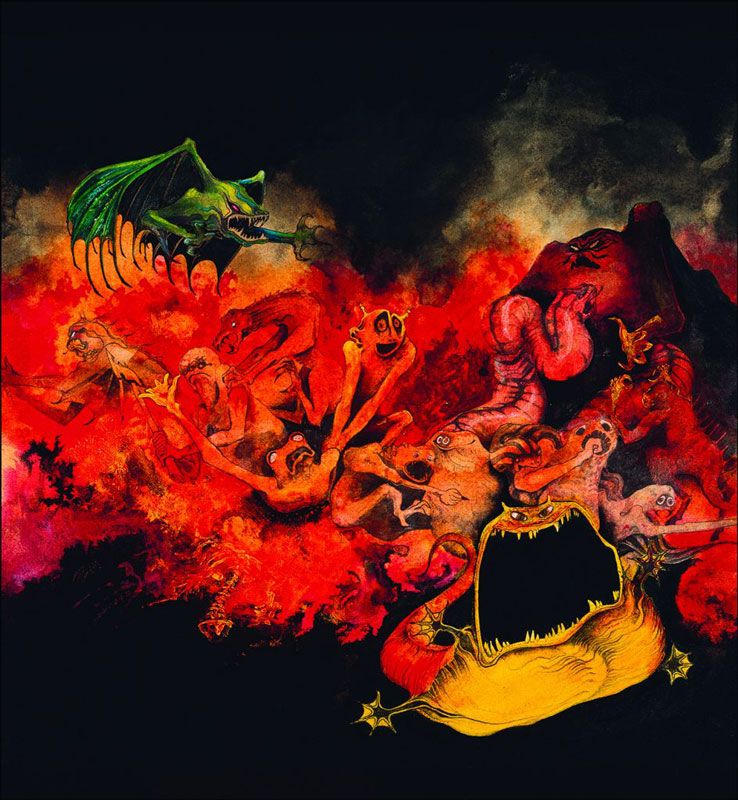 – though he started making a name for himself with his first Osibisa record cover in 1971, featuring several winged elephants.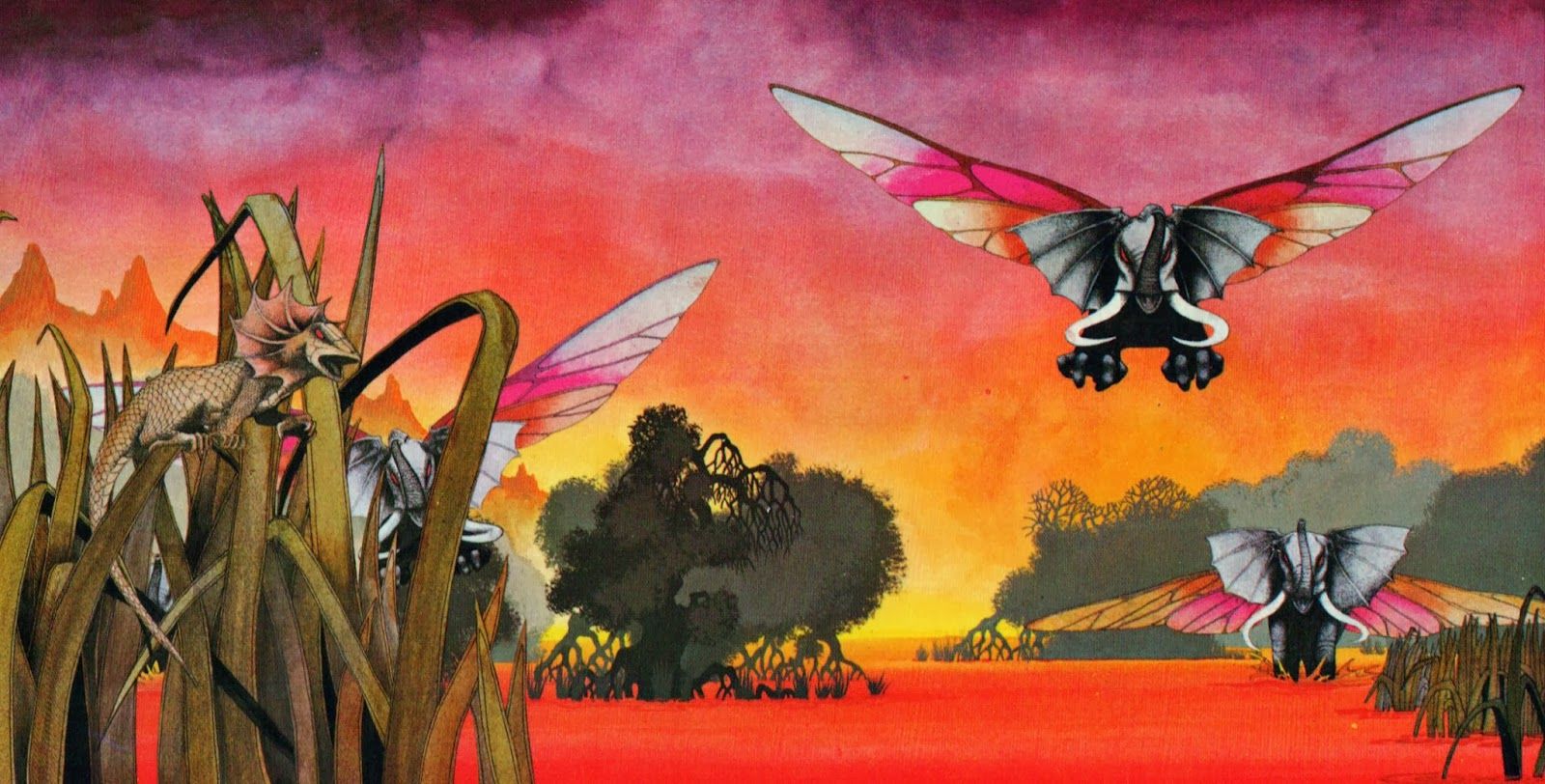 His landscapes tend to combine naturalism with fantasy: Rock formations and caves that are just a little too twisty, waterfalls pouring off the edge of the earth, mossy islands floating in space.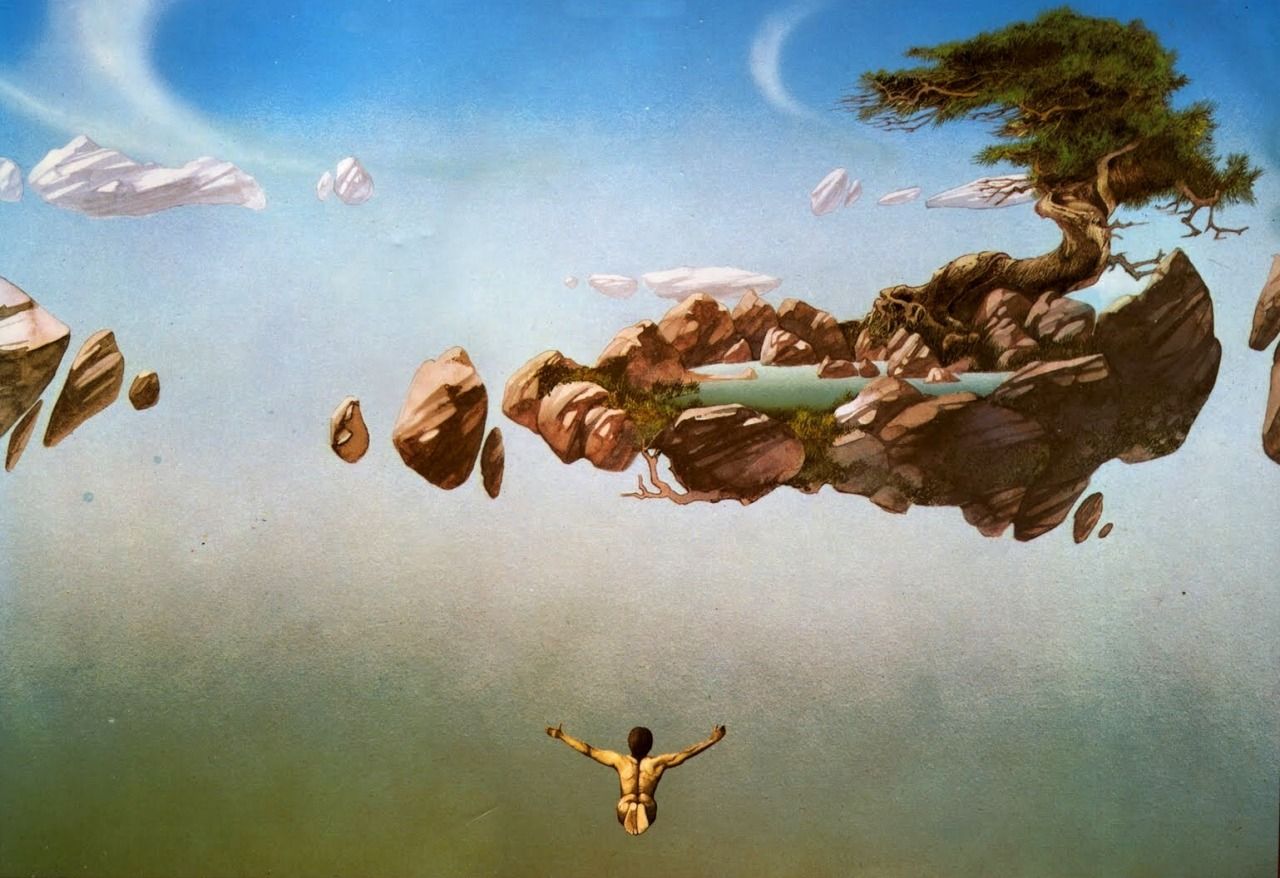 Dean has used gouache, enamel, watercolor, ink, montage, and crayon, often mixing three or more techniques in the same work.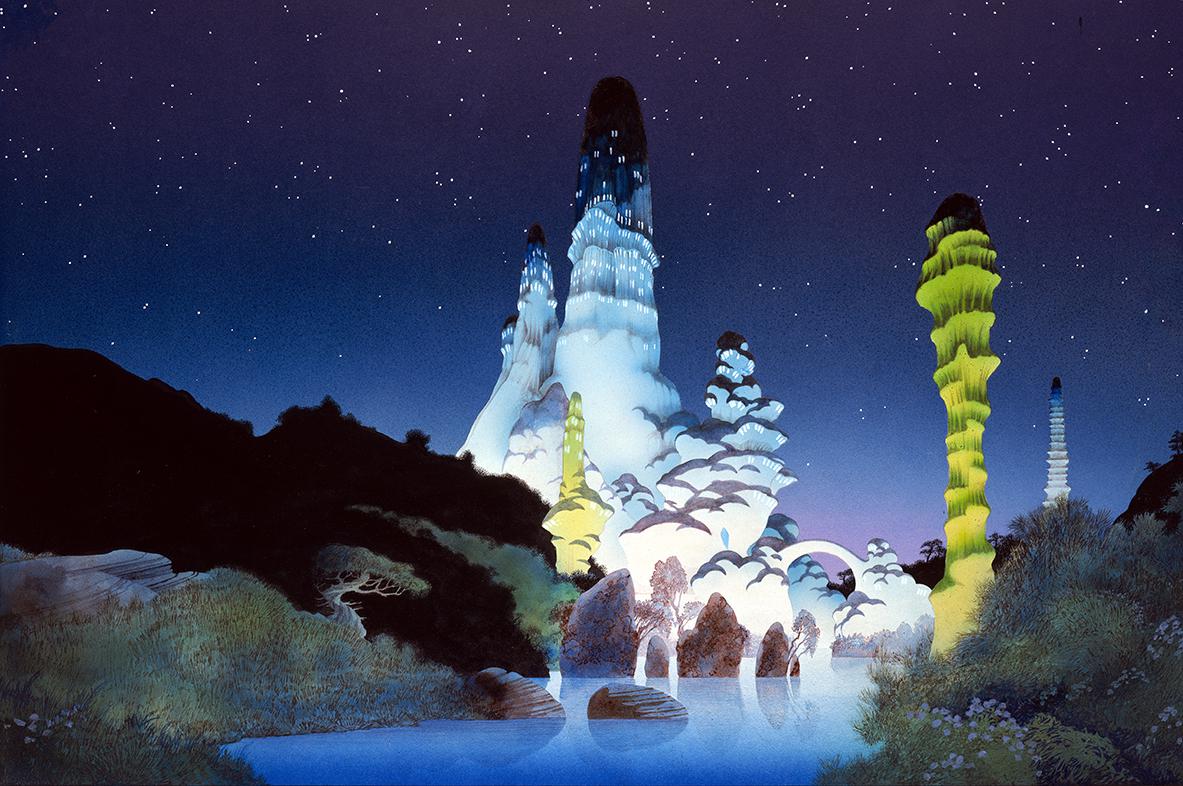 He also designs logos, video game box art, and architecture.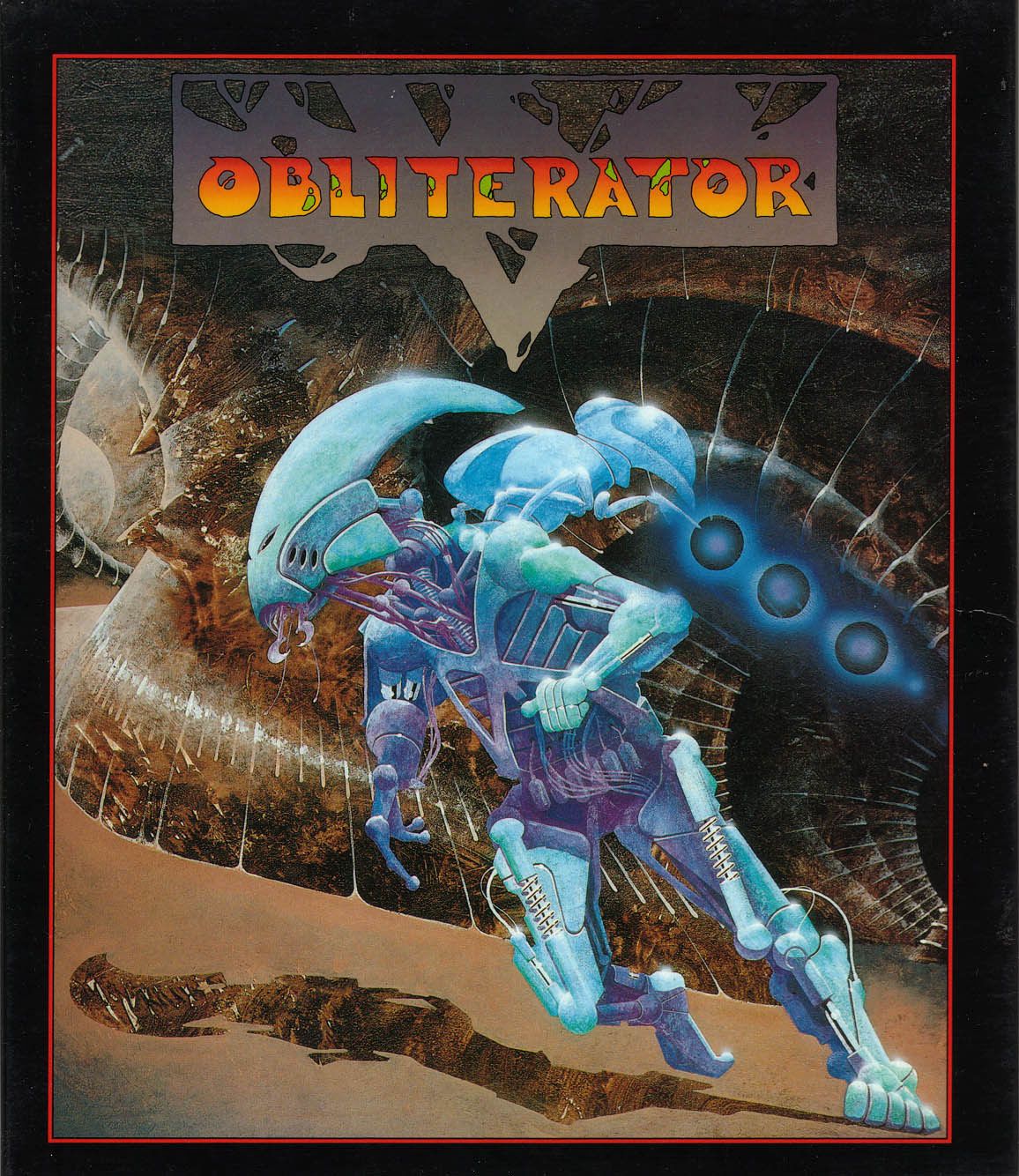 He often blends these interests—a 1972 cover to Midnight Sun's album Walking Circles features a skeleton sitting on its own prehensile tail in a particularly outside-the-box application of Dean's furniture design degree.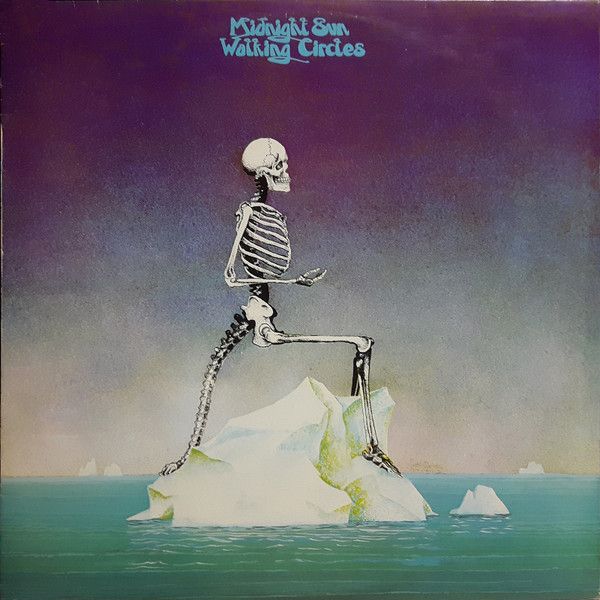 Science fiction artists Richard Powers and Paul Lehr both picked up sculpting later in their life, in part to break away from their sci-fi careers. In contrast, Dean's designs and models for chairs, beds, and houses look like they could have come straight out of one of his paintings.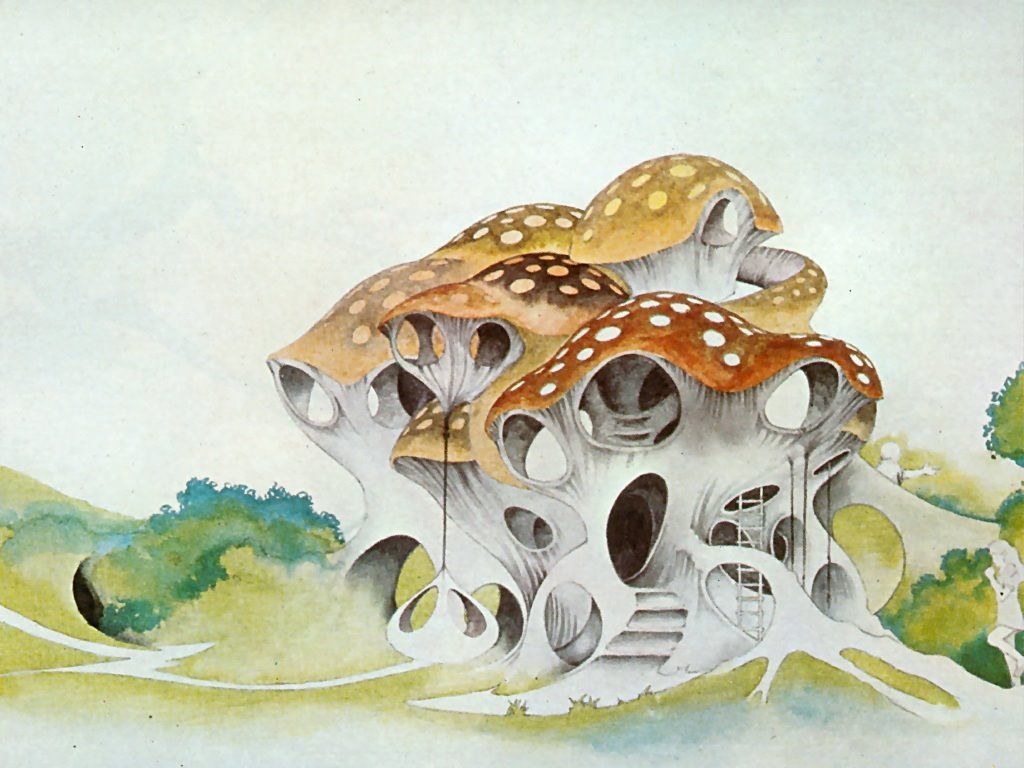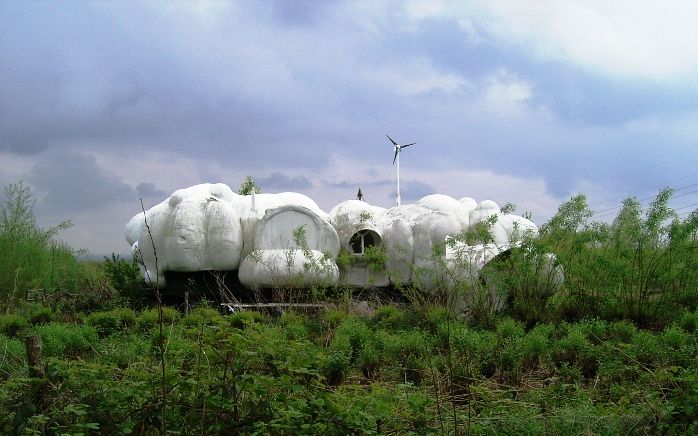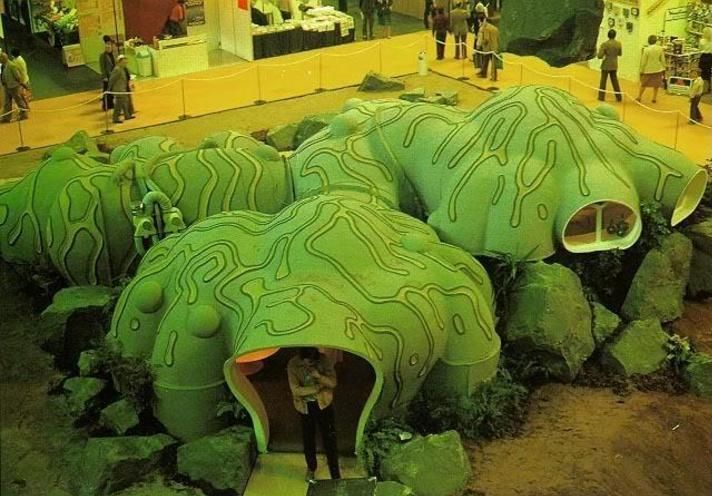 His 1976 art book Views explains that Dean tries to "make his technique completely invisible so that the image could shine through unimpaired."
When possible, he builds it wholesale. His 3-D designs and 2-D paintings take two different paths to arrive at the same irreducible concepts that have fascinated Dean across his entire impressive career.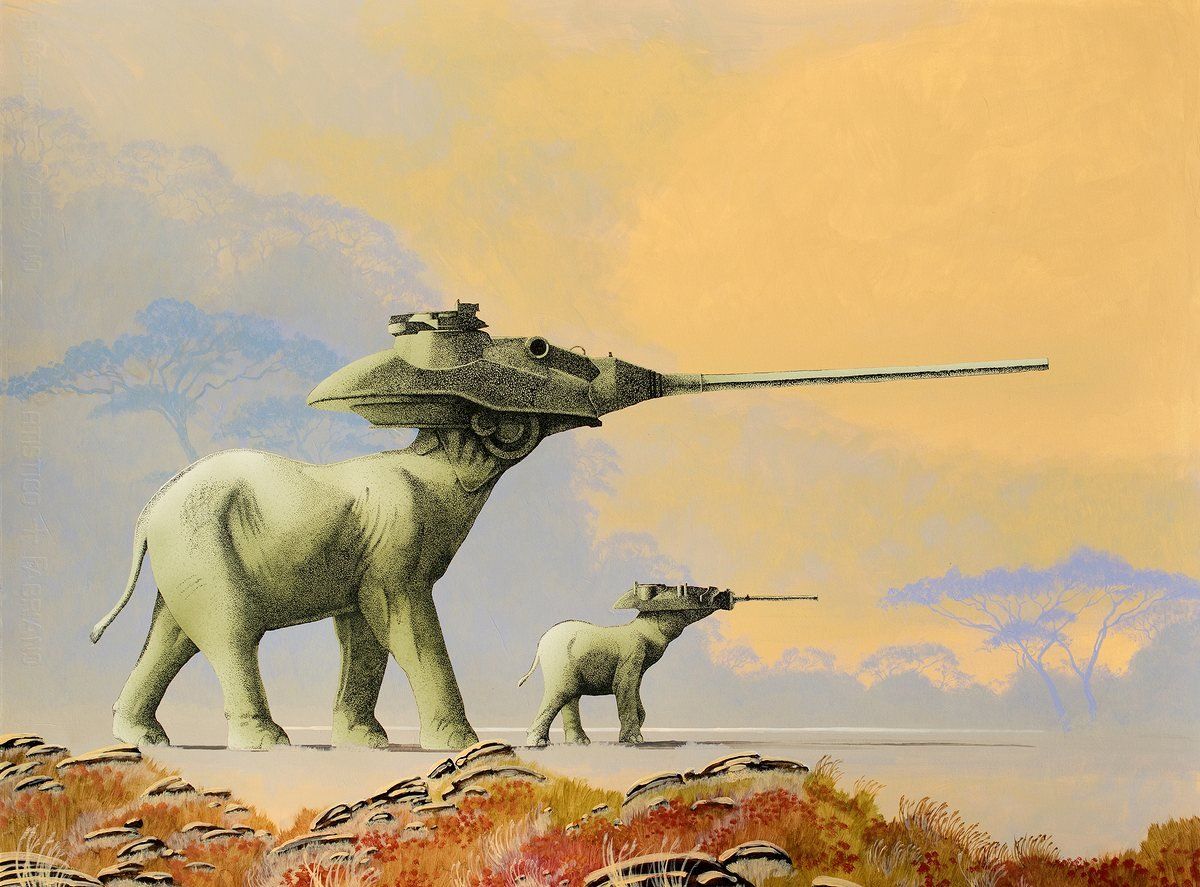 ***
I wasn't able to get in touch with Roger Dean while working on my art book, and I had to cut the two-page spread that I would have used the text above for. He's one of the biggest names that I couldn't ultimately get a feature for in my book. I even mention him in the introduction and epilogue, as well as a few scattered references throughout the book.
Granted, Dean's career has never focused on book cover art, which is what most of my collection centers on, but he's definitely a huge artistic influence worth celebrating.
I share this anecdote about Dean in the "Space Cats" section of my artbook:
On at least one occasion, a cat has itself left a mark on sci-fi art history: Roger Dean's cat famously walked across his still-drying cover to the 1973 Yes album Yessongs, leaving Dean no time to paint over the paw prints before the art was photographed for the cover that same day.
How did Dean feel about this? "Murderous," he deadpanned in a 2020 Facebook livestream. "It's a cat, what can I do? We had words. And that was it."
It's a great story, but I have to confess that I can't see the paw prints on this image. Perhaps I'm missing them, or perhaps this is a later version that was repainted. I'll have to remember to ask him about it if I ever do get a chance to talk to him!