Design Sci-Fi
All hail the Lunar Worm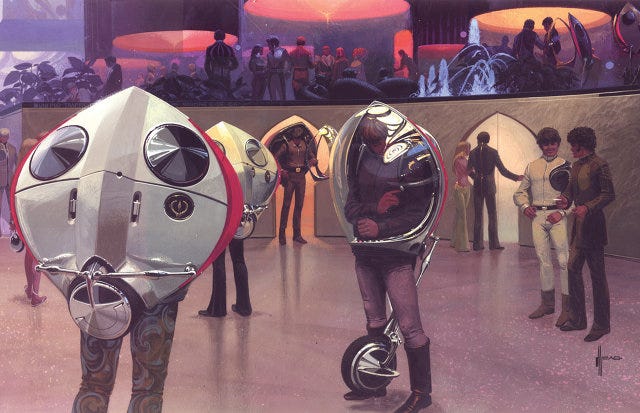 Syd Mead's a groundbreaking visionary in forward-looking design. For years, I'd also considered him a bit of a curmudgeon, and recently realized it's mostly because of this particular Fast Company article I read years back. I mean, he might still qualify as a curmudgeon, I'm not the curmudgeon police, but I feel like I have a more accurate understanding of him now. His main calling was inventing futuristic but genuinely useful and innovative designs — He did plenty of fiction concept art, too, but when people treated his real futuristic designs like they're entirely fiction, and started reading in metaphors that aren't there, he got annoyed.
Here's the article, along with an excerpt that offers the most succint example of this happening:
The Problem With Wearable Technology, According To "Blade Runner" Designer Syd Mead
Mark Wilson, Fast Company
Q: I see Unipods as a bit dystopian, with glass that separates us from others. Was that intentional?

A: The glass faceplate, Mark, is to keep bird shit off your clothes or you while in transit, okay?
Is this quote going in the Syd Mead section of my book? I sure hope so!
Speaking of design fiction, here's an interesting look at a cool genre of subversive near-future sci-fi design satire, and how corporatations like creating their own defanged versions.
It pairs well with this profile on MSCHF, a group that might (or might not) have found a way to combine the corporate with the subversive.
How big tech hijacked its sharpest, funniest critics
Tim Maughan, MIT Technology Review
A more recent example is a May 2019 Amazon ad for the Echo smart speaker, "Caring Is Sharing." The 30-second spot shows a young man bringing his grandfather an Echo and installing it in his apartment, presumably to keep him company and to let family members stay in touch with him. He's grumpy about it at first, reluctant to acknowledge it, but the next time his grandson comes to visit, he's using it happily.

Though at first glance it seems like any other TV ad, "Caring Is Sharing" looks and feels eerily similar to "Uninvited Guests," a five-minute satirical film made by Superflux, a London-based "speculative design agency," in 2015. That video similarly portrays an old man living on his own who has been given a range of surveillance devices by well-meaning family members: a smart fork that measures the nutrients in his food and nags him about his salt and fat intake, a smart walking cane that scolds him if he doesn't get his recommended daily steps, and a device that connects to his bed to make sure he's getting enough sleep. But instead of succumbing to the intrusions of these devices—as in the Amazon ad—the protagonist of "Uninvited Guests" finds ways to fool them. He puts the smart fork in a plate of salad while eating fish and chips, pays a local teenager in beer to walk the smart cane for him, and piles books on his bed so it looks as if he's sleeping when he watches TV.
***
The Hidden Pro-Union Politics Of 'Space Jam'
Steven Perlberg, Mel Magazine
The central story of the 1996 film Space Jam is well-known: Michael Jordan links up with the Looney Tunes for a high-stakes game of basketball against a team of alien slavers armed with the stolen talent of five NBA stars.

Less well-known is that the movie contains barely hidden pro-union messages.
***
Cool review for a pulpy grindhouse-style movie I hadn't heard of, and one that's much more in the vein of the low-budget thrillers I talked about in the last free newsletter:
Drenched in grit, gore, and neon, VFW is an action throwback that hits all the right notes
Katie Rife, AV Club
At times, you can also see where Ethier—editing the film in addition to producing it, acting in it, and doing the sound design—had to cut around certain budgetary limitations in the fight scenes. But the pacing is lively and relentless enough that those moments barely have time to register, and the cast has enough scrappy charisma that your eyes are on them the whole time anyway. Besides, you wouldn't want to elevate material like this too much—that'd be like one of those faux "dive bars" that serve $14 cocktails. VFW is a shot-and-a-beer type of joint, and proud of it.
***
This newsletter's ostensibly about any type of genre fiction, but I sure do spend a lot of time on movies, don't I? Here's an interview that's actually about books:
Interview: Jess Nevins, author of Horror Fiction in the 20th Century
Andrea Johnson, nerds of a feather
It finally occurred to me that perhaps I could write a book about horror fiction—as Benjamin Disraeli wrote, when I want to read a book, I write it. So I started doing research for the book, and comparing what I wanted to research and what I wanted the book to have to what was in the standard reference works, and I realized what the book could be  and should be. That's how I got interested in doing this particular horror reference book: I wanted a horror book that included all the stuff the standard horror reference books left out.
***
This article's been going around, but it's really the best explanation of what's going on in Parasite that I've seen. It won't make any sense unless you've seen the film, so bookmark it now if you haven't gotten a chance to see Parasite yet.
Reading Colonialism in "Parasite"
Ju-Hyun Park, Tropics of Meta
Every English word in the first five minutes of Parasite establishes the Kims' class position in South Korea's contemporary economy.
***
Finally, here's this absolutely unreal tweet I just stumbled on. Talk about design fiction.
If you wanted to name the weirdest space hardware ever seriously studied, you might go with Ford Aeroneutronic's Lunar Worm from 1966. Based on an earlier idea, the vaguely disgusting sounding "peristaltic tracking", it would use a standing wave to traverse uneven or soft terrain.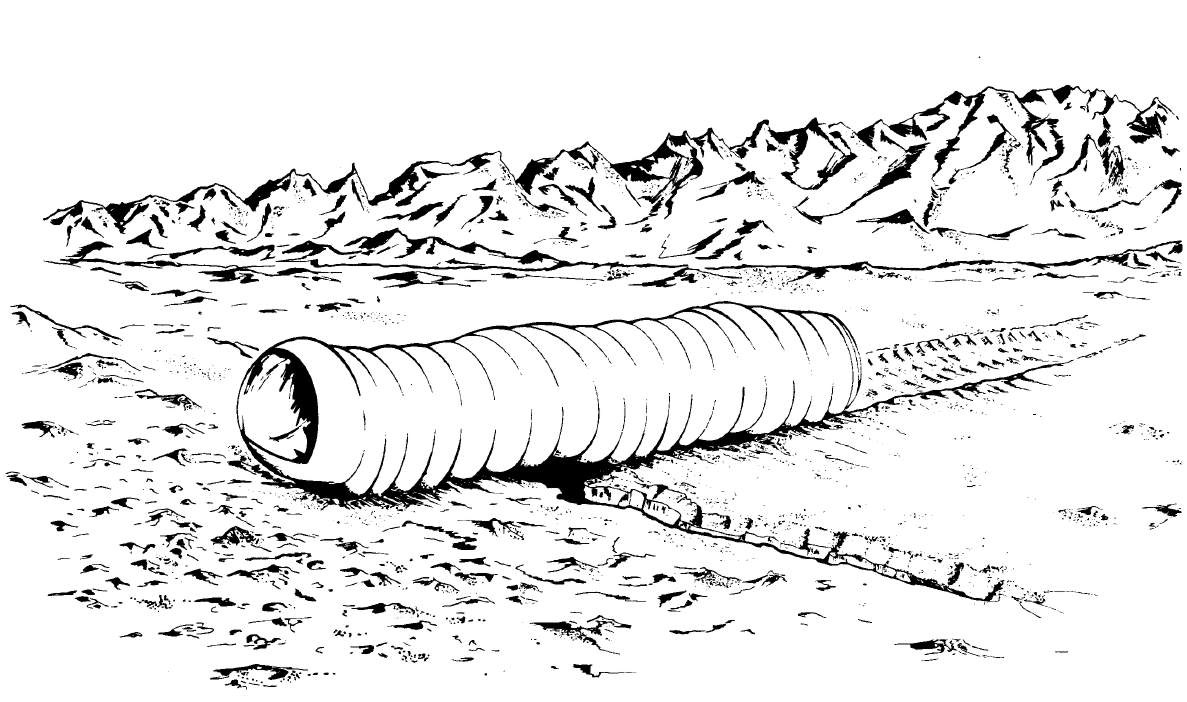 All hail the Lunar Worm.
Last time, on Retro Sci-Fi Art: Paying subscribers got a look at my top five objectively most popular Tumblr posts that won't be in my retro sci-fi art book, and why.
Next time, on Retro Sci-Fi Art: Paying subscribers get a look at a cool post-apocalyptic sci-fi image, one of my favorite sci-fi art subgenres.